Contact us
Join us on Social Media
Follow the Office of Diversity and Outreach on Facebook, Twitter, Instagram, YouTube, and explore past events on flickr.
---
GAPDA
The Graduate and Professional Dream Advocates is an interprofessional and interdisciplinary student organization whose mission is to support undocumented immigrant graduate and professional students through promoting awareness, establishing a support system, and advocating for increased access to graduate & health professional programs, and health care for the undocumented immigrant community.
---
Subscribe to our listserv
Follow these steps to subscribe to the Undocu Listsrv:
Send an email with no subject line to [email protected].
In the body of the email, write a one line message: subscribe Undocu first-name last-name
Example: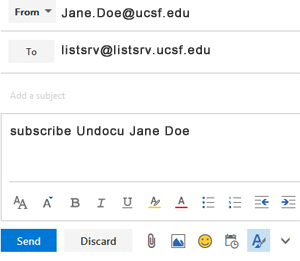 After sending, you will receive an email confirming your subscription to the Undocu list along with posting instructions.